100+ TWIST-ON

ACCESSORIES

LIMITED

LIFETIME WARRANTY
Features
THE BRIGHTEST AND RICHEST COLORS
The RGB Critter® is the brightest RGB LED color-changing flashlight (color-changing torch) available. It offers 39 unique colors and 93 customizable presets (color patterns) that are all powered by our patent pending PWM/Analog Technology, creating the richest colors possible. If you're a light painter, driving the LED using an Analog signal is essential, as this will allow you to take the most vibrant photos possible.
HOW IT WORKS
The RGB Critter is threaded at the lens allowing for over 100 unique twist-on accessories that light up and glow when connected to the RGB Critter. There are three illuminated buttons that can be used to explore the different modes and for accessing all kinds of fun features such as brightness control, strobe speed, adjusting preset pattern speeds, sound reactivity, movement reactivity, and more!
RGB CRITTER ACCESSORIES
Accessories include flow art toys and light painting tools that are universally interchangeable and twist directly into the RGB Critter Flashlight. Choose from our most popular product, the BitWhip® Fiber Optic Whip, which looks like pixels from outer space, or our Sol Saber, a real-life light saber you can fight or duel with.
LIGHT PAINTING TOOLS
The RGB Critter is the perfect color changing LED flashlight for light painting. There's no need for colored gels and adapters when you upgrade to the RGB Critter Flashlight as you can choose from over 100 different twist-on accessories that are all universally interchangeable with the RGB Critter.
DIY LIGHT UP COSTUME
The Fyber Kit Package includes the RGB Critter Flashlight and a bundle of 360 end glow cables that you can cut to your desired lengths. Use this kit to create a futuristic fashion LED costume and be the spotlight of your next late-night party or event!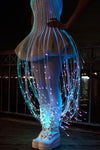 Choosing a selection results in a full page refresh.